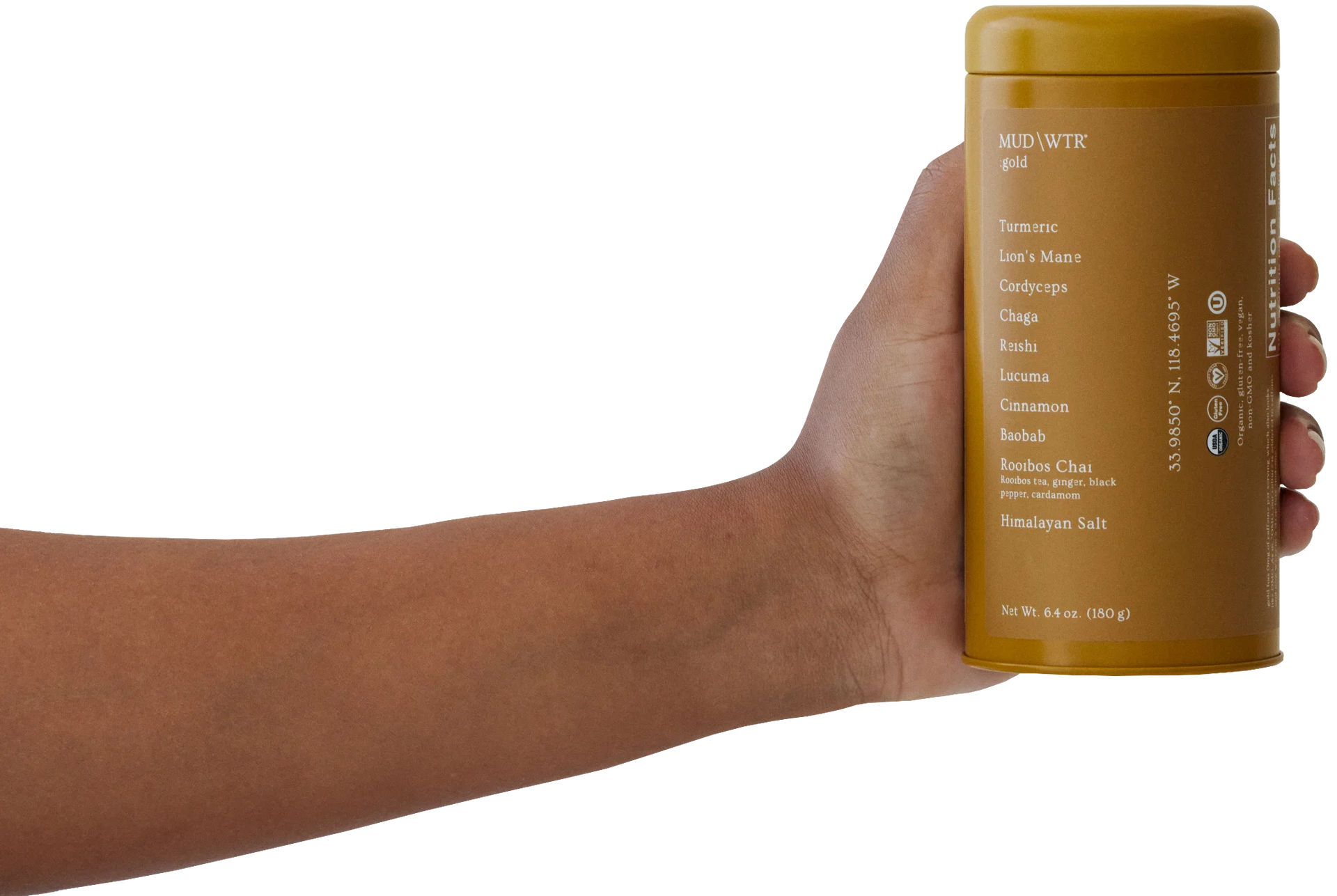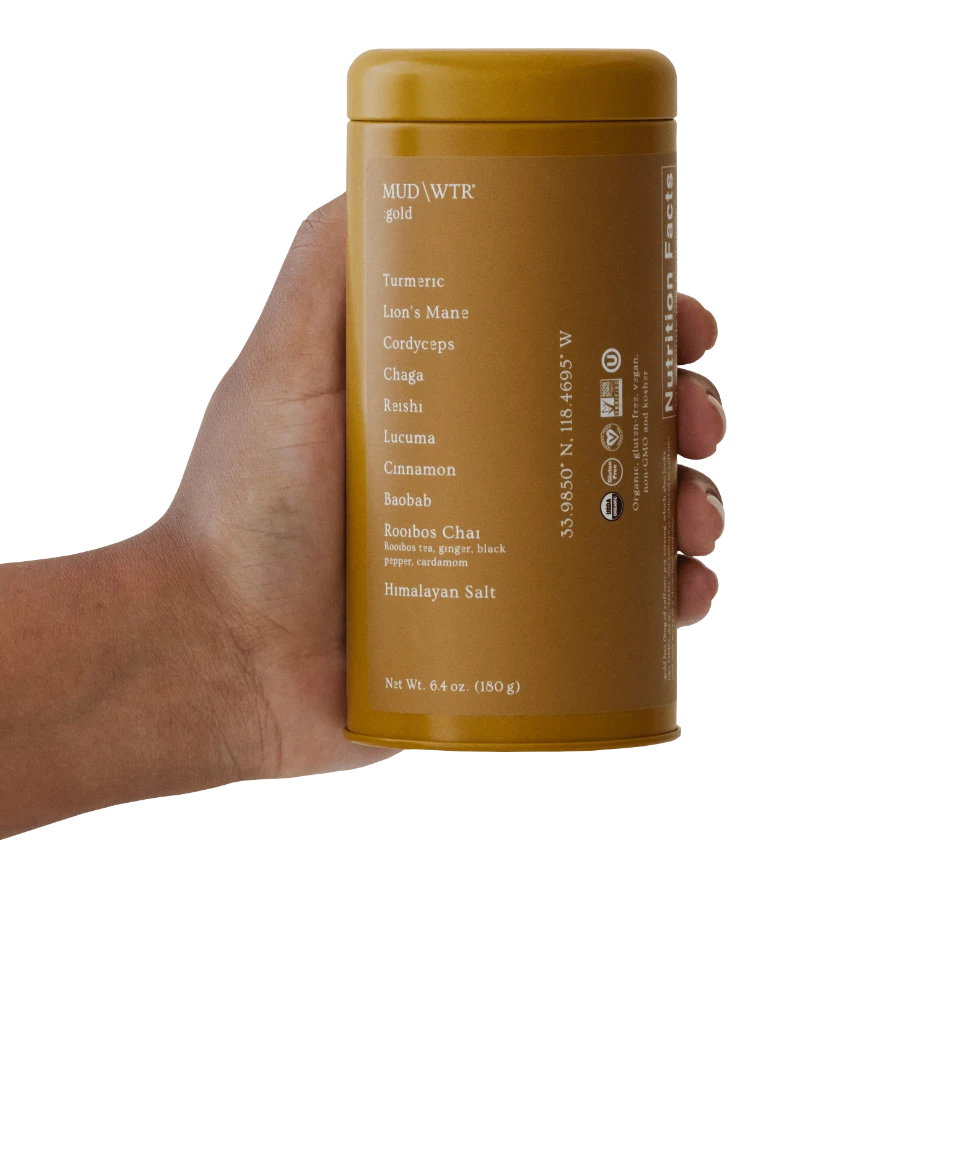 Energy and focus, without the caffeine
0 mg of caffeine
1,840 mg of mushrooms and mycelium
With zero caffeine, our blend of turmeric, spices, mushrooms and mycelium gives you focus, immune support and, most importantly, balance. It'll support you throughout the day, without messin' with the night.
Try It
Subscription Benefits
Refill ships in 30 days
Adjust shipments or cancel anytime
Free US shipping & free frother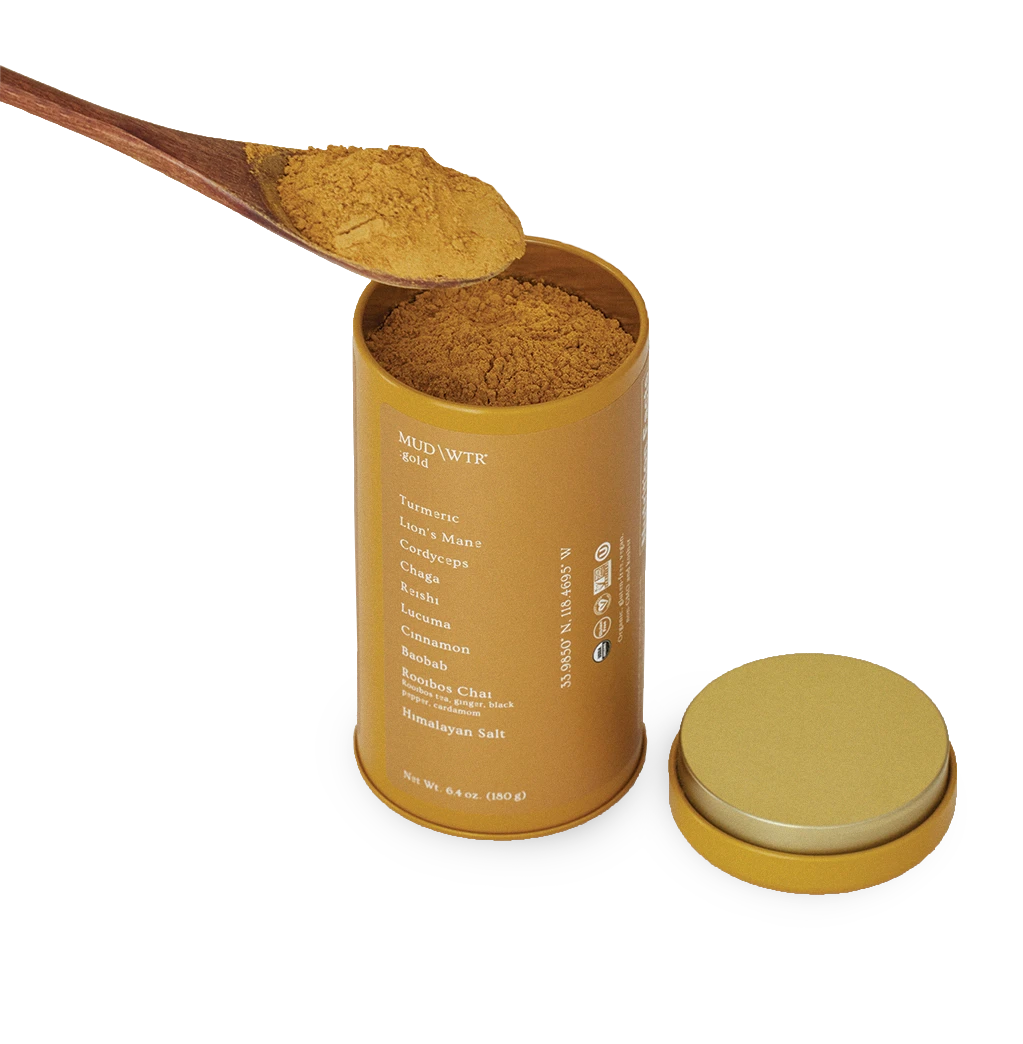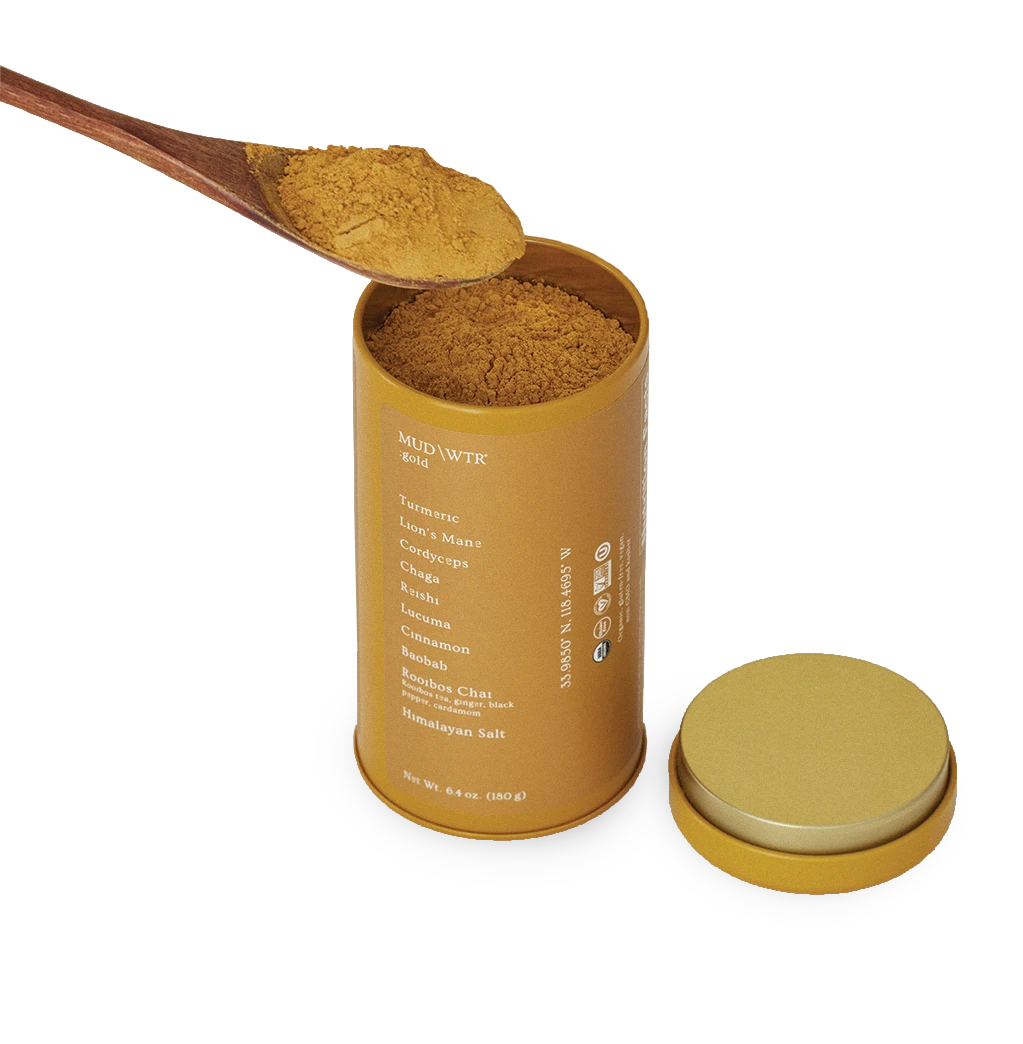 How to drink turmeric tea
Not too sweet or too spicy, our turmeric blend is juuuust right. Preparing your blend is simple: Drop a tablespoon into a little hot water and get frothing. Add your favorite milk and sweeten it however ya like. Over 80% of our customers drink theirs with milk. A quarter of 'em add sweetener, too.
Some of the benefits are felt right away, others are felt with repeated use over time. The most important thing is that you find a recipe that you can build a healthy habit around, whatever that might be.
INGREDIENTS: Organic Spice Blend (Organic Turmeric, Organic Cinnamon, Organic Ginger, Organic Cardamom, Organic Black Pepper), Organic Mushroom Blend (Chaga, Reishi, Lion's Mane and Cordyceps mushrooms and mycelium grown on organic oats and/or organic sorghum), Organic Lucuma Fruit Powder, Organic Baobab Fruit Powder, Organic Rooibos Tea Extract, Himalayan Pink Salt
100% USDA Organic, Vegan, Non-GMO, Kosher, Gluten Free
How to make the perfect turmeric tea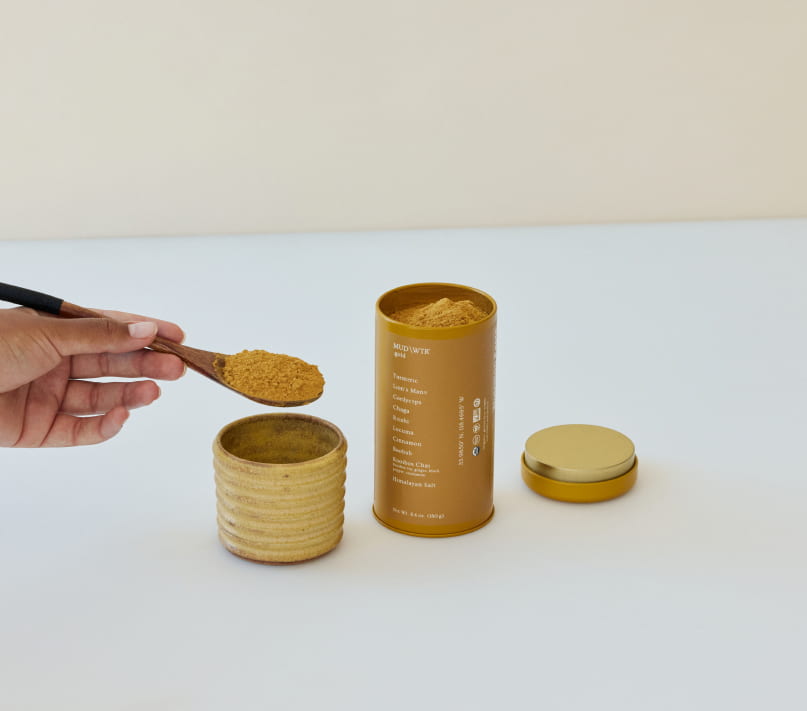 Drop a spoonful of :balance Turmeric.
A tablespoon or 6g is good.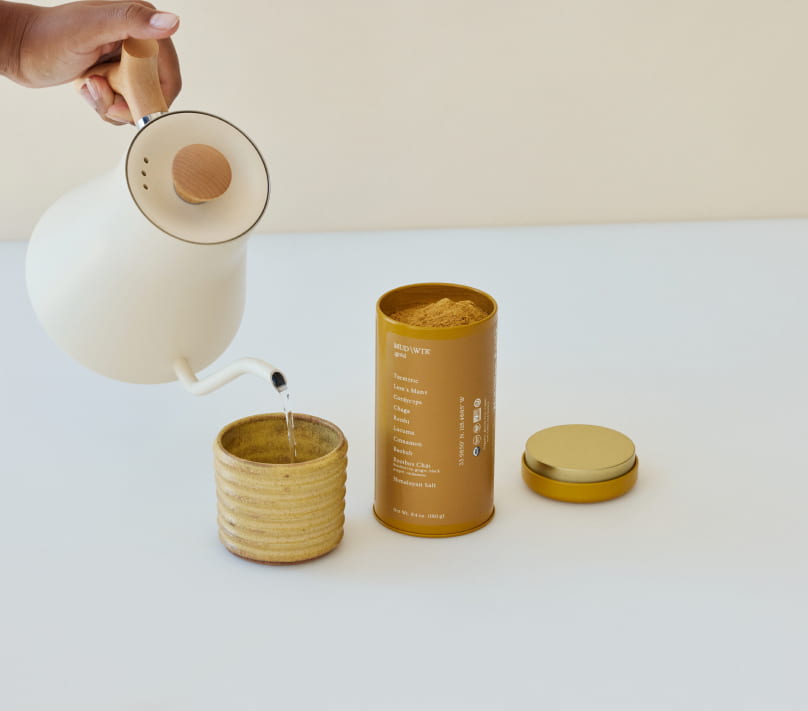 Pour 6-12 oz. of hot milk or water.
80% of customers use creamer or milk, 25% add sweetener too.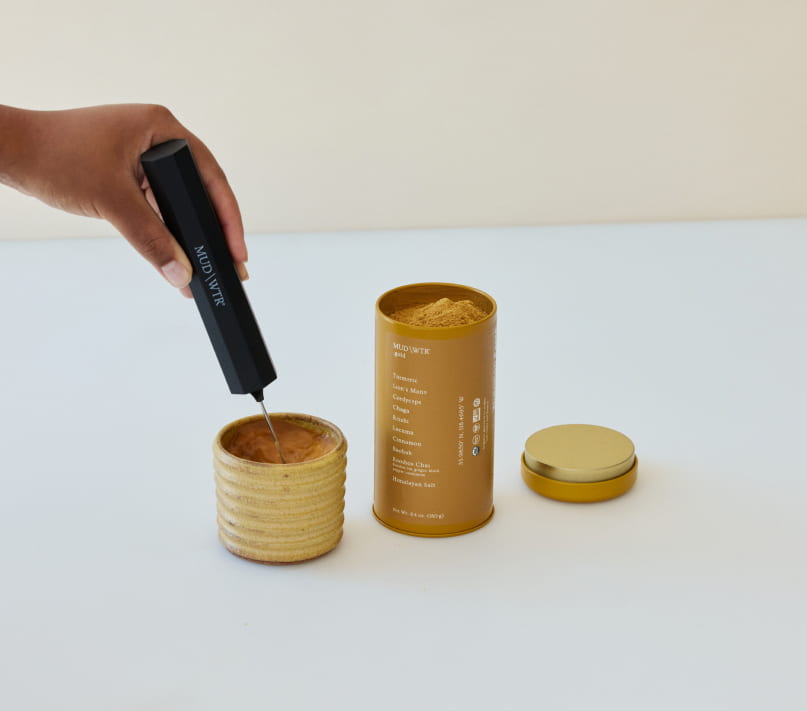 Get frothing. Get frothing real good.
Put to the bottom, tilt to the side,
then turn on.
Turmeric
Turmeric is the heavyweight ingredient here, helping with post-workout recovery or relaxing after a stressful day. Turmeric is a reminder to find balance in your day—to hit pause from the grind and ground yourself. Because healthy habits add up. And if you can change your mind, you can change anything.
Reishi
Reishi is such a juggernaut of a mushroom that it steamrolled its way into all our blends. Using both the fruiting body and mycelium, it's an adaptogen that supports a healthy immune system.
Lion's mane
We add a dollop of lion's mane to all of our :rise and :balance blends. Why? Because the shaggy white mushroom and mycelium is known to promote focus and support mental performance. It's just what you need to stay focused throughout the day ahead.
Cordyceps
First used by Tibetan herdsmen thousands of years ago, cordyceps promotes natural energy to get you through the day. Cordyceps has made its way into all of our :rise and :balance blends.
Chaga
Stuffed full of antioxidants, chaga is a functional mushroom that supports a healthy immune system.
*The chaga mycelium we use looks different than the birch conk pictured.
Lucuma fruit powder
Known as "The Gold of the Incas," lucuma is a sweet secret weapon of a fruit. To accentuate its butterscotch and caramel undertones, we read it poetry every night. That's right, we read poetry to an antioxidant-rich fruit.
Baobab
Sure, baobab sounds made-up, but it's actually an antioxidant-rich fruit. Mostly, it's just really fun to say. Baobab.
Ceylon cinnamon
Cinnamon gets a bad rap for what it's usually paired with (think mountains and mountains of sugar), but there's more to this spice than you might think. This one's an antioxidant powerhouse.
Himalayan salt
WTF? Salt? Yeah, salt. Rehydration first thing in the morning is key to setting your body up for the day. Himalayan salt is an electrolyte that supports hydration. How much do we use? There's just a pinch in our :rise and :balance blends.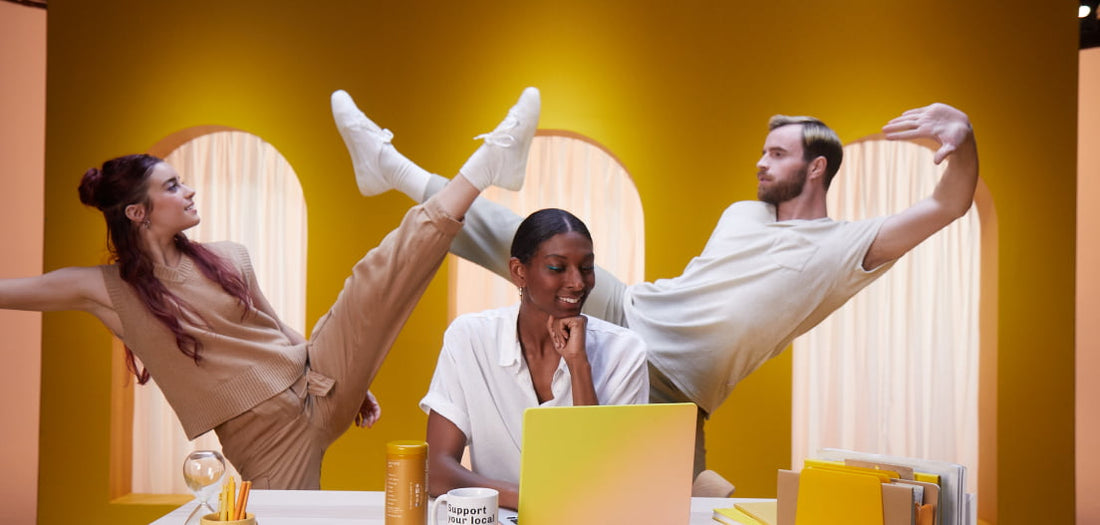 Introducing :balance Turmeric
If :rise and :rest are the bookends to your days, :balance is the library of knowledge cradled lovingly between them. How will it make you feel? :balance Turmeric won't get you feeling too up, or too mellow, but juuust right.
Ask us anything
Does :balance Turmeric contain caffeine?
Nope! There's zero caffeine in this one.
Is :balance Turmeric keto-friendly?
There is no standard keto diet, so it's up to you to decide. The 3 g carbs in each serving is a small amount, and most keto diets will allow for a mug of :balance Turmeric in the day.
Does :balance Turmeric contain gluten?
Nope, :balance Turmeric is gluten-free.
Does :balance Turmeric contain any sugar alcohols, artificial sweeteners or added sugar?
What does :balance Turmeric taste like?
In the same way a mullet reflects the two sides of someone's personality, :balance Turmeric has a business end and a party end. You'll discover the business end when you drink it straight—you get a very prim, well-mannered turmeric tea, slightly fruity and sweet, a little spicy, but overall respectable. Ready for a party? Add in something creamy, like our :creamer, and lessgoooo. When you start experimenting, :balance becomes a mosh pit of spiraling flavors … and you're standing right in front of the PA.
What contributes to the carbs and fiber? Usually tea doesn't contain these macros.
The majority of the carbs come from the mushrooms and whole turmeric in :balance Turmeric, which typical herbal teas do not contain.