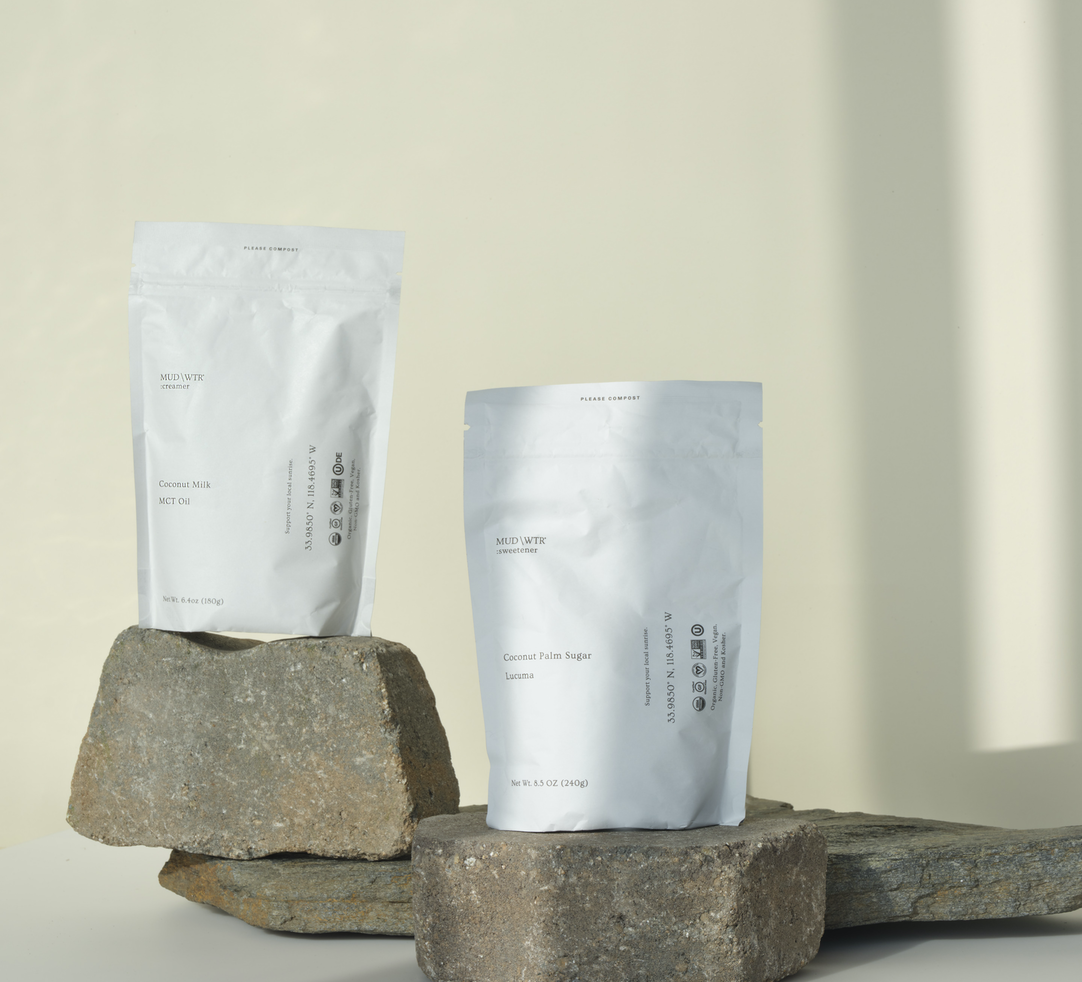 30 serving :sweetener & :creamer Bundle
If there's one thing we know, it's that life is better in pairs. This was true on Noah's Ark and it's true of our :creamer and :sweetener bundle. It's also true of socks, but look, that's not the point. The point is that bundling saves you cash and cuts down on shipping and fossil fuels.
Our :creamer is made from coconut milk and MCT oil. It's vegan, sugar-free and gluten-free.
And our :sweetener? Thought you'd never ask. Two parts coconut sugar, one part lucuma. With butterscotch and caramel undertones, it's here to bring a little more bliss to your morning ritual. 
Ah, there's my sock!
Choose your price
$34 refill ships in 30 days
Adjust shipments or cancel anytime
Free US shipping
You're saving $8!
$42
$34
Reviews
JS

Amazing!!

Weather you're a Mud head or not you need the creamer and sweetener!!! I'm obsessed! I love how smooth the creamer is and the sweetener is truly the perfect sweetness.

Since switching to mud/wtr I no longer crave my coffee (which I would drink black) I've never been a big sugar/sweets type but decided I should try it, I mean I'm loving their other products so why not. Plus its the healthiest you can get!

I love it!! I think everyone should have this in their cupboard. And buying the duo on the subscription is a great deal!

sweet cream bundle

I always use the creamer! I love it, I accidentally ordered the sweetener bundle which I don't usually use at all.

Morning MUD/WTR

I really enjoy it with my morning tea.

Kristine Y.

Verified Buyer

Sweetener/Creamer Bundle

So happy with this bundle. I tried to duplicate it on my own and just couldn't. So glad I have it on automatic renewal so I don't have to go without.

Sagrario Z.

Verified Buyer

Great bundle savings

Great purchase ..the sugar taste great, the cream has an after taste and I loose the delicious taste of my MUD\WTR. But I know I will use it because of its benefits

These are great

Love the creamer with MUD-WTR. It seemed to be the only creamer/milk that enhanced the flavor. However I did love the Heavy Whipping Cream with it! Along with Monk Fruit sweetener. But I am also trying to go dairy free at the moment. The powder blends well. Try e sweetener is very mild and like I said also enhances the flavor! I recommend this combination for the best flavor.

Awesome

This bundle is amazing. The coconut creamer is especially really delicious and it adds that lil something extra that takes mud to the next level. Two thumbs up!

Melanie F.

Verified Buyer

Got me drinking my calories again! But I'm a good way.

In love! Tastes so delicious! It got me drinking my calories again though. I had cut out creamer for a long time. But now that I've had creamer with my Mud it's on again. Life is too short to worry about a little sweetness in the morning. :)

This is great , Coconut sugar and creamer is good quality

Makes the mud/water friendly for begginers in the brand

Zabrina D.

Verified Buyer

Very light concoction ☺️

It has a "guilt-free" sweetness. It just feels healthier. Lol. Thank you.
Reviews Loaded
Reviews Added