Trends w/ Benefits Newspaper
This limited-edition Trends w/ Benefits newspaper is a way to kick it old school and detox from your phone. It's an homage to a time when newspapers were a quarter and we had the attention spans to read them.
Note: if you're having trouble checking out, your credit card may have a minimum purchase requirement. That's right - it's too cheap :) Try using PayPal or email [email protected] for assistance!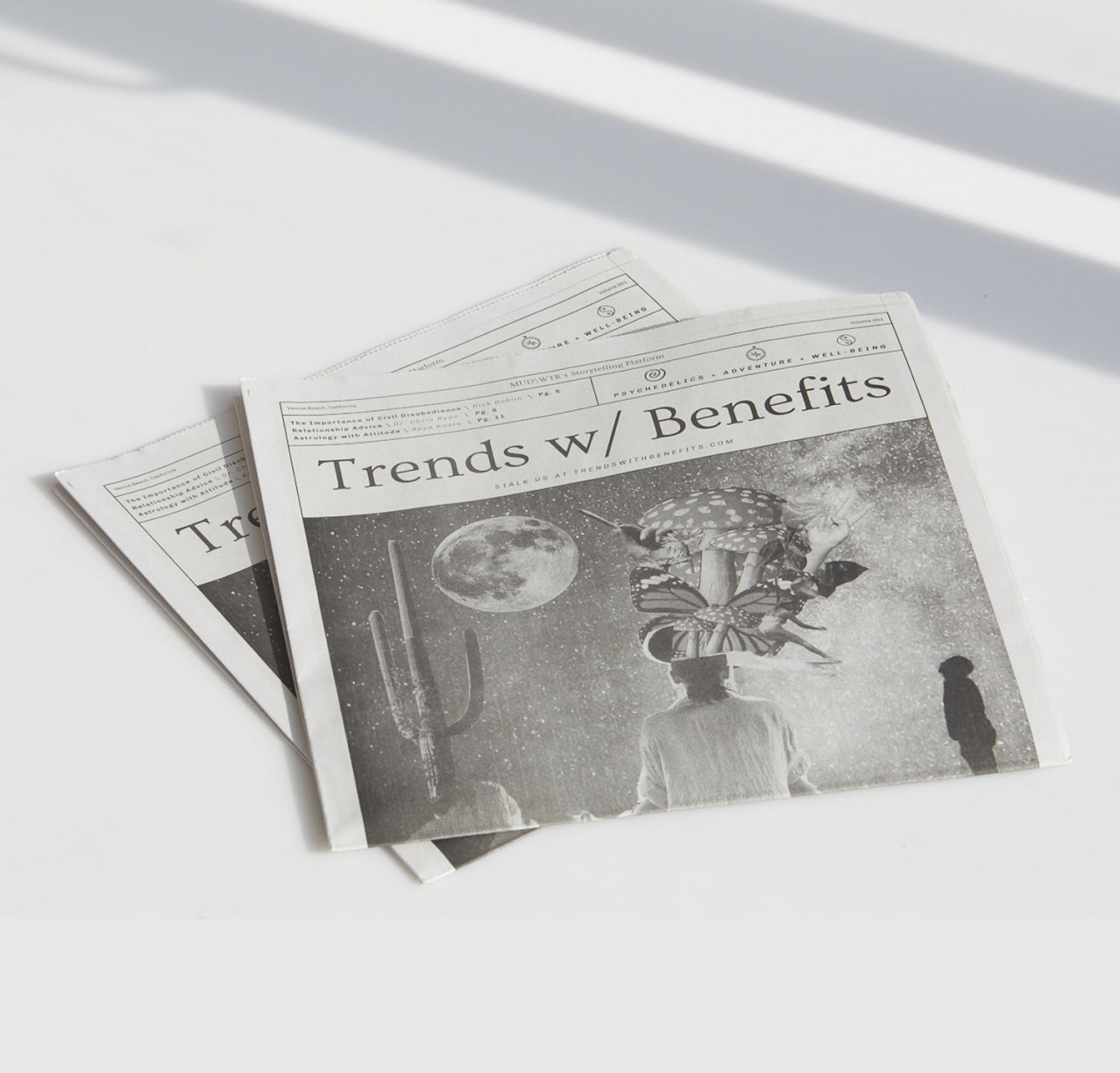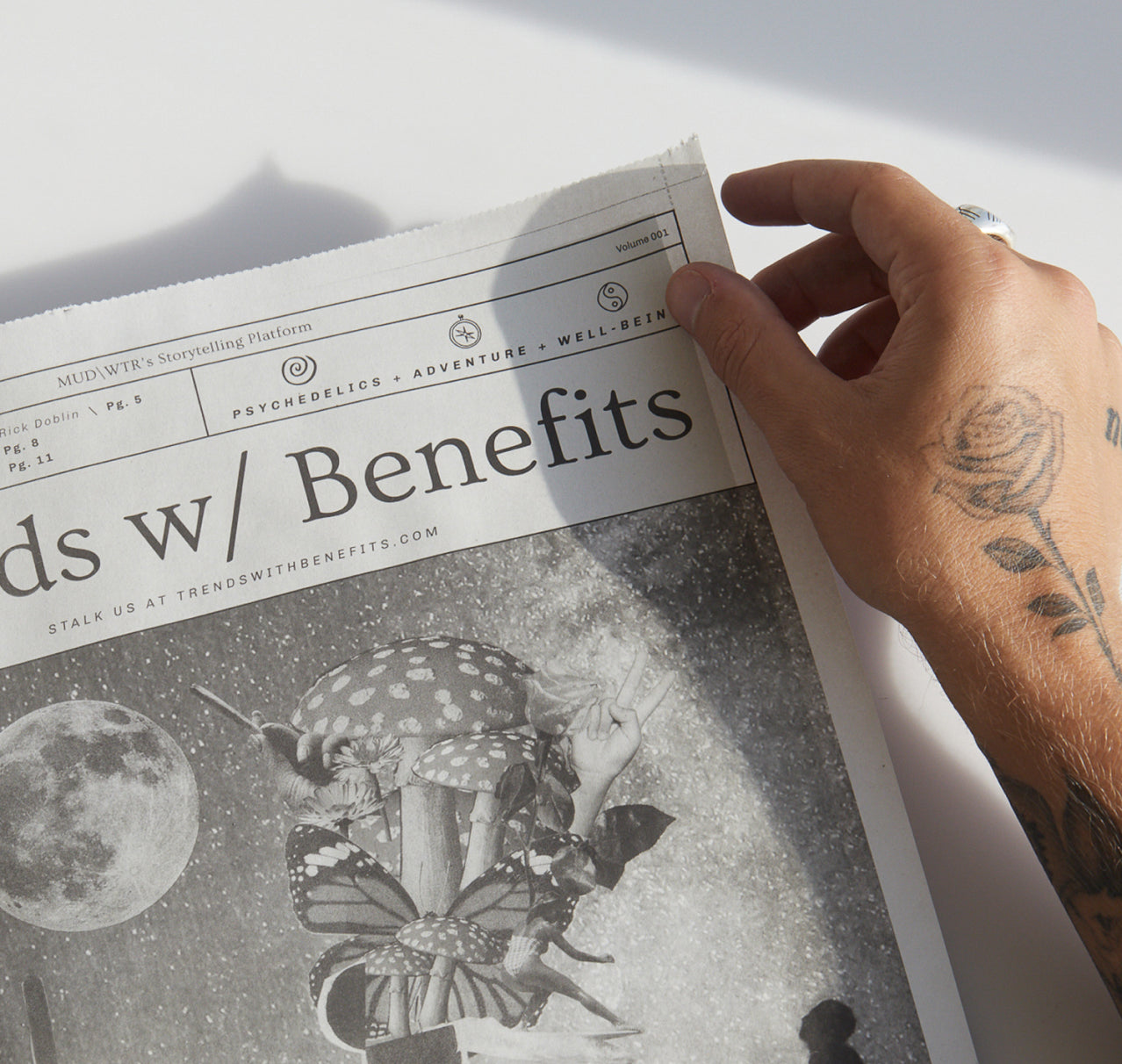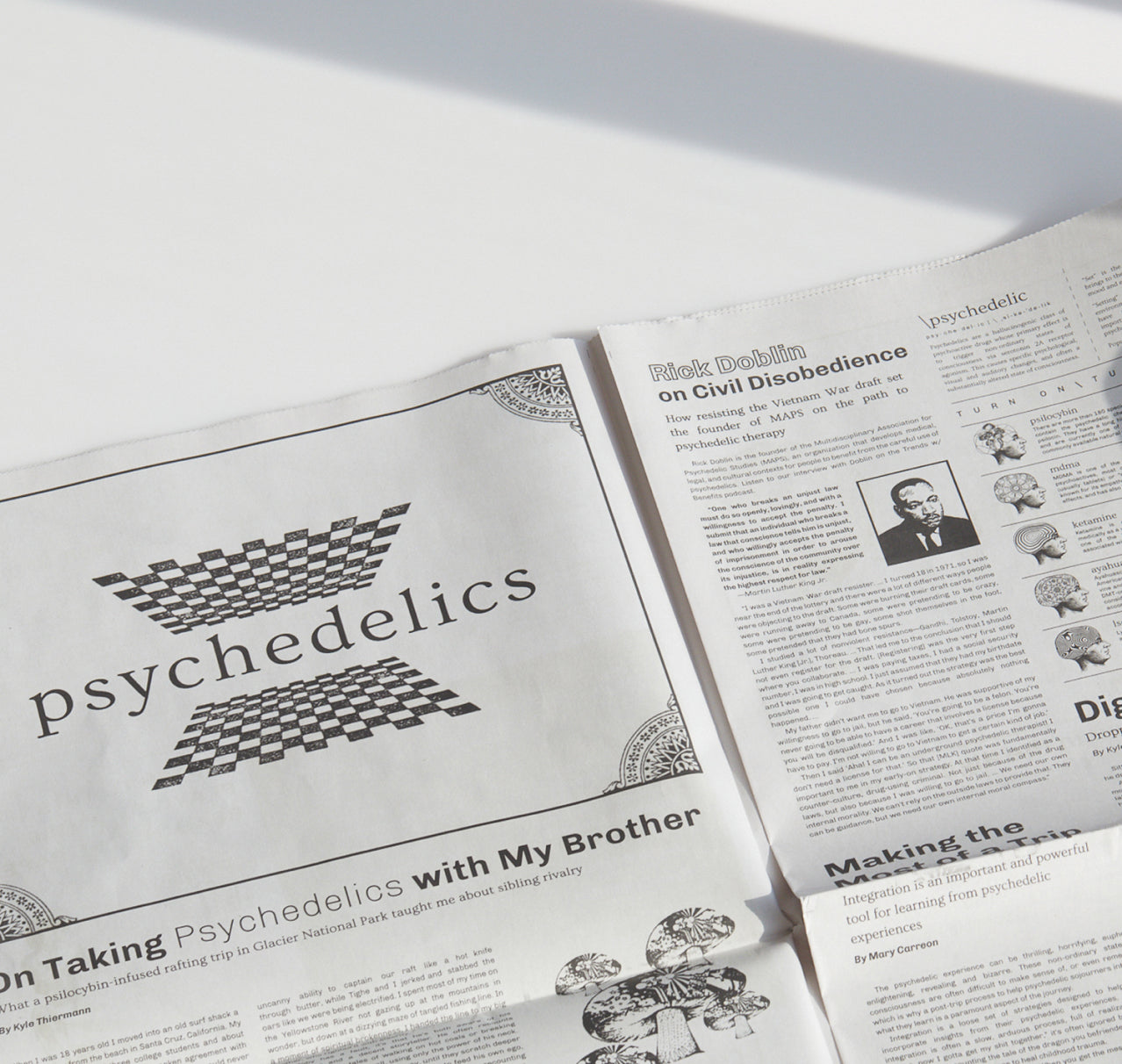 WTF is Tw/B?
You can't double tap or retweet our newspaper. You could conceivably fold it into a paper airplane, throw it into your neighbor's yard and call it a "share."
But don't do that. Just read it and feel delight radiate from your pores.
Trends w/ Benefits is our storytelling platform and this limited-edition newspaper is a way to kick it old school and detox from technology. It's a reminder to slow down, eat some banana pancakes, and try a crossword puzzle.
We gathered some of our favorite humans to contribute to this inaugural issue. MAPS Founder Rick Doblin writes about the importance of civil disobedience. Bestselling author Chris Ryan drops relationship advice from an evolutionary perspective. Dirtwire's David Satori reflects on Burning Man. We profile the big-wave legend Peter Mel. And Anya Kaats writes a column called Astrology with Attitude.
How to read it.
Find a comfy chair, preferably outside. The ground works too. Take off your shoes. Open it up. Scan the QR code for some background tunes and then dive in. Spark one up for added inspiration.
Nutrition Facts
Serving Sizes
1 hour read time
Psychedelic mushrooms
¯\_(ツ)_/¯
If you're reading this
we love you
Not a significant source of information. For a well-rounded perspective, talk to people you disagree with, listen deeply, and see where you have common ground.
* The % Daily Value (DV) tells you the quantity of news that contributes to a daily information diet. 2,000 perspectives a day are recommended for general wisdom.
1/7th the fun of a cold plunge.
Bring it on back!!

It's sold out! I didn't even get to experience it. But I'm jumping on the band wagon with the other folks here and begging for it's return. Please please please.

KC

Can we please get more 😢 ❤️

I need one of these sell out newspapers 📰 asap! I can't believe there still sold out!! I hope you can bring them back soon and make this girl right here very happy 😃 Oh... & everyone else happy as well 😂 💖🙏

All the R A G E

I really want the NEWSPAPER 📰 + added to my order but it's out of stock 😢 CAN YOU ABSOLUTELY 💯 BELIEVE A NEWSPAPER 📰 IS OUT OFF STOCK 😆 LOLWOW!!!this is blowing my mind for real. I wonder if it was $1 if it would sell out as quickly. So if by any chance you can make this single girl happy 😊 and add the paper to my order when it comes back in

Thanks guys ❤ ya

VC

Missed the limited edition newspaper!!

I am sad to say that I missed the limited edition print of this newspaper! Will there be more than one edition released? Will there be reprints of the first? Please let me know if so as I am eager to sit and read one with my morning cup of MUD/WTR! Or… if any one of you would drop one in the snail mail for me, and "share", I'd be down for that too!!! Let me know. Thank you!

A good read!

Thanks for keeping it groovy, y'all

Flashback to the "good old days"

This newspaper felt like a welcomed flashback. Not because back then everything was better, because I know it's much better in most ways today, but because it felt like it had valuable, unique information in this paper. Not the same old BS that's in the news and newspapers today. In fact, it made me question the saying "if it bleeds, it leads" as just another lie they sold to us to keep our experiences negative. I'd way rather read the cool, more uplifting info in this paper. Well worth the extra $. Get it with your next order

Cute

Such a wonderful and interesting morning read!
Reviews Loaded
Reviews Added