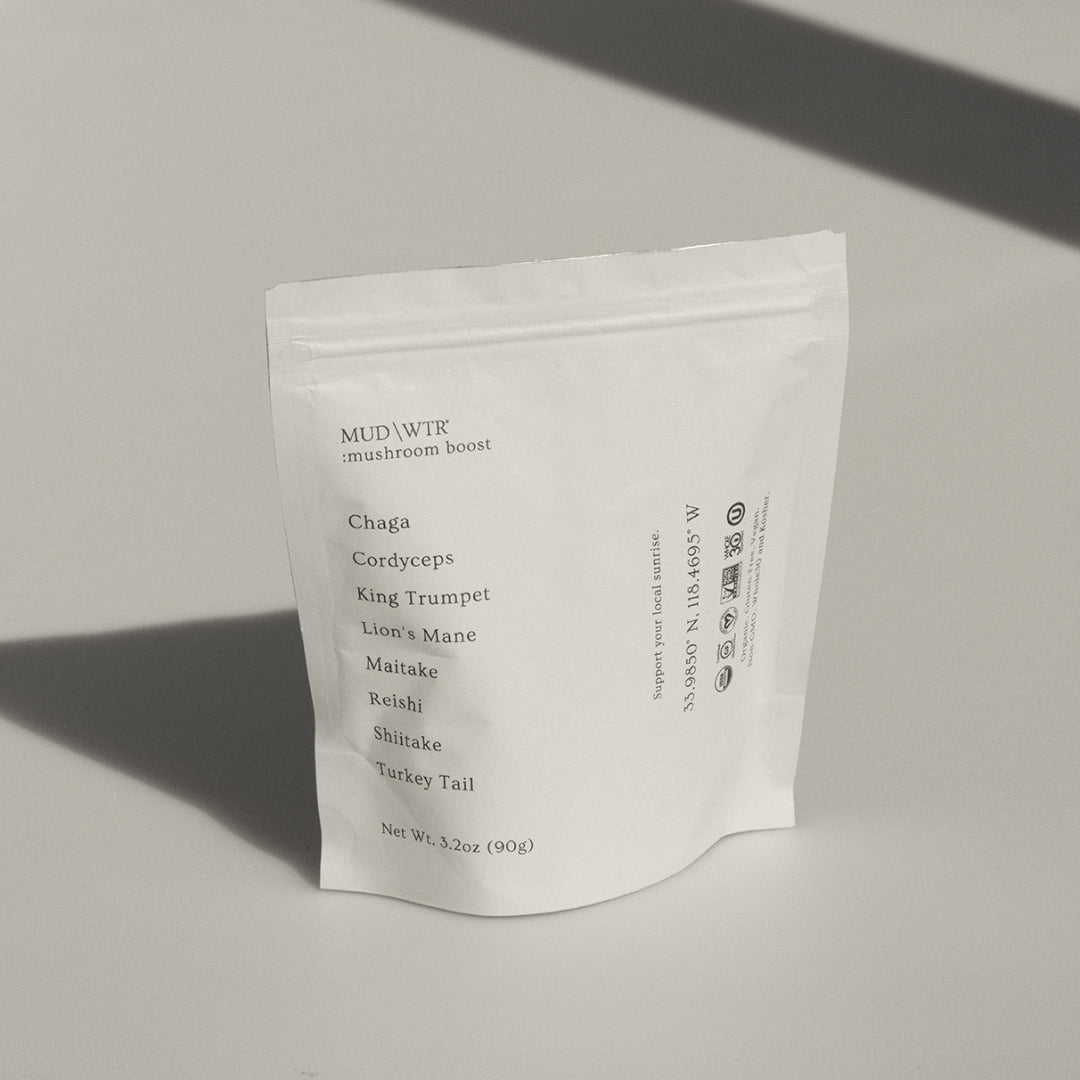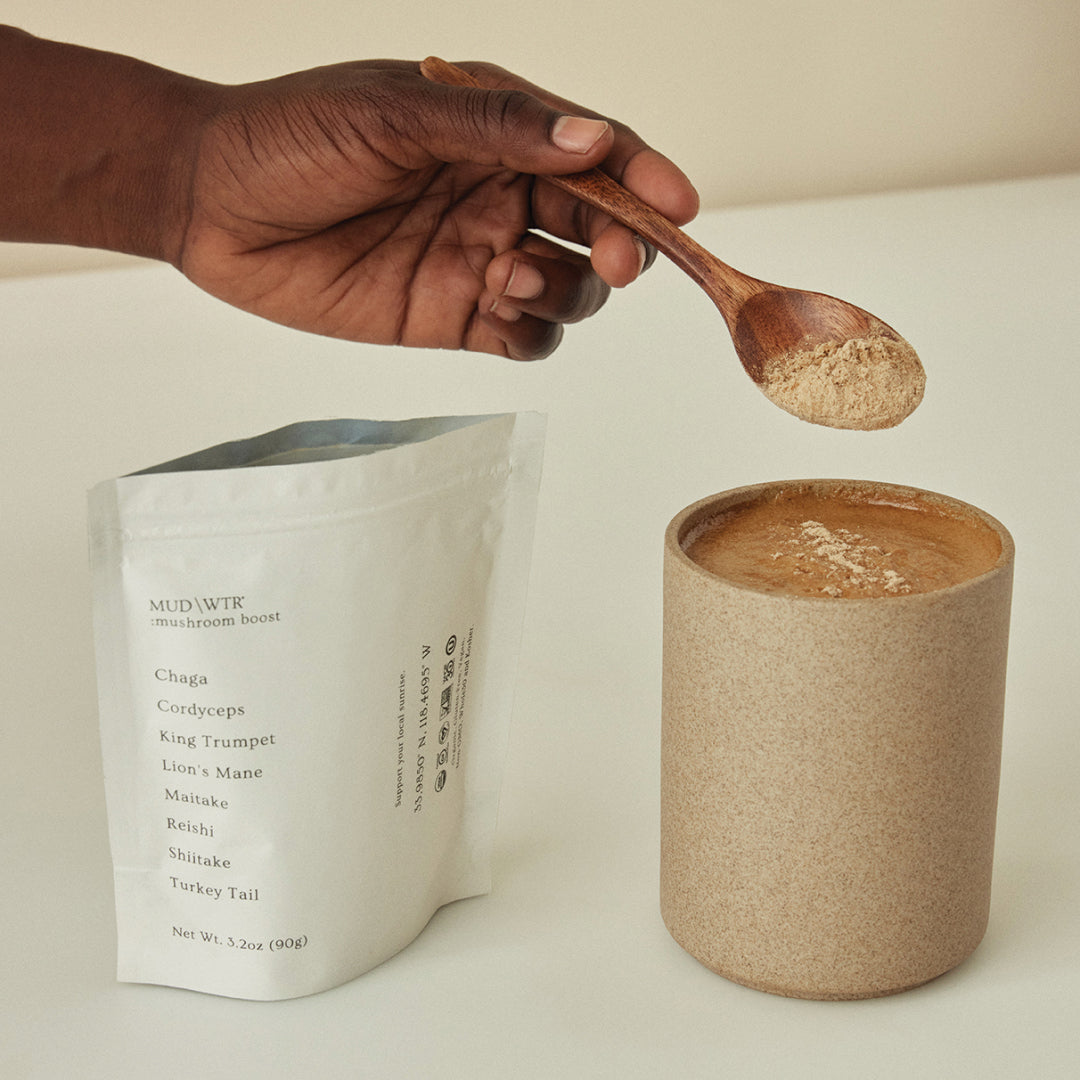 30 serving :mushroom boost
These mushrooms won't make you trip, but they will support your immunity, energy and mental sharpness, causing you to say stuff like, "Everyone chill the f*ck out—I got this," a little more often. 
What a trip.
Choose your price
Refill ships in 30 days
Adjust shipments or cancel anytime
Free US shipping
You're saving $5!
$25
$20
Mushrooms you
can trust
Grocery store aisles are stocked with pretty colors and an ugly underbelly. So, rather than play the pretty package contest, we focused on the ingredients inside.

Our mushrooms and mycelium are 100% organic and grown in the U.S. This is a huge benefit when it comes to traceability and quality.

Give it a try, ya might like it.
INGREDIENTS: Organic Chaga, Cordyceps, King Trumpet, Lion's Mane, Reishi, Turkey Tail, Maitake and Shiitake cultured on organic oats and/or organic sorghum.
USDA-certified organic, gluten-free, vegan, non-GMO, kosher and Whole30-Approved®.
Ask us anything.
Will these mushrooms make me trip?
Nope. But check out the work we do to support psychedelic research. Because it's about time we change the narrative around those mushrooms, too.
What are the benefits?
On this dream team of adaptogenic mushrooms, we have lion's mane for focus, cordyceps for natural energy and vitality, and king trumpet, reishi, turkey tail, maitake and shiitake to support your immunity.
Can I drink while fasting?
There are 10 calories in a single serving of :mushroom boost. Most experts say that anything under 50 calories won't break a fast, but this depends on who you are. Consult a physician. Seriously, please do it.
Does it contain caffeine?
Negative ghost rider, the pattern is full.
How is it Whole30-Approved® with oats on the label?
You're correct that oats and products made with oats are eliminated during Whole30. Whole30 HQ has made an exception to that rule for :mushroom boost as we use organic oats that are used as material to culture the mushroom blend. Because oats are not present in significant amounts in the final product, Whole30 determined :mushroom boost is still Whole30-Approved® and compatible during the program.
Reviewing

90 serving :mushroom boost

I recommend trying it, I did and really like it!

I've been adding the Mushroom Boost to my oil/butter Coffee and absolutely love it. Now that it's been 2 weeks taking it, 1 week off, then 1 week taking it again, I can tell the difference with and without it, and I feel better energy, a stronger immune system, and an overall improved feeling of wellness.

Reviewing

90 serving :mushroom boost

Love this product!

I am so happy I ordered the mushroom boost!!! It adds an additional layer of flavor and nutritional benefits!!

Reviewing

30 serving :mushroom boost

Coffee, who???

I absolutely love this stuff! I don't miss coffee at all, in fact when I think coffee in morning, I'm like nope, mud/wtr

Reviewing

30 serving :mushroom boost

Great Choice without caffeine

I was looking for an alternative to coffee with no caffeine intake. I found it!!

Reviewing

90 serving :mushroom boost

Rise and shine it takes about a week to kick in fully

I love this this is my third order it gets better the longer you take it

Reviewing

30 serving :mushroom boost

Great product

This is my first time using the product I don't have any complaints at all. Once you locate the recipes that work for you I think you'll enjoy it too.

Reviewing

90 serving :mushroom boost

Love it

I still drink coffee (shhh) but put this in it in the AM and need less coffee and do not need a refill through the day, also definitely do not get tired in the afternoon anymore. Love it.

Reviewing

90 serving :mushroom boost

More clarity and energy!!

I've been adding a teaspoon of Mud\Wtr to my coffee (caffeine doesn't bother me, I can drink it at night) one cups day and I have noticed an increase in clarity and energy! I will definitely continue to use it!! Thank you 😊

Reviewing

30 serving :mushroom boost

Loving my shrooms!

I've tried the Mudd Water as a coffee replacement, but I'm just a coffee lover, but I use another of their mushroom blends. I've noticed more clarity, energy, and faster reflexes. I'm a fan!

Reviewing

30 serving :mushroom boost
Reviews Loaded
Reviews Added